Lakhs of youngsters yearn to attain knowledge from top-notch universities of the USA. Are you amongst them? If yes, then link with IBT Overseas today. We provide sterling assistance to students who want to pursue higher education in the United States of America. Students generally seek shortcuts to get study visas in order to avoid the hassles of lengthy procedures. But, they don't consider the problems they can face after following easier methods. They often find themselves struggling without appropriate guidance to go about with the process. At IBT overseas, we make sure our students are not struggling with the options of getting a student visa in the USA. Our staff is well versed with the immigration laws and helps students in choosing a suitable university in America. We aim to serve as a bridge between students and universities. Honesty, diligence and commitment are some of the captivating qualities that makes IBT overseas the best USA study visa consultants in Amritsar.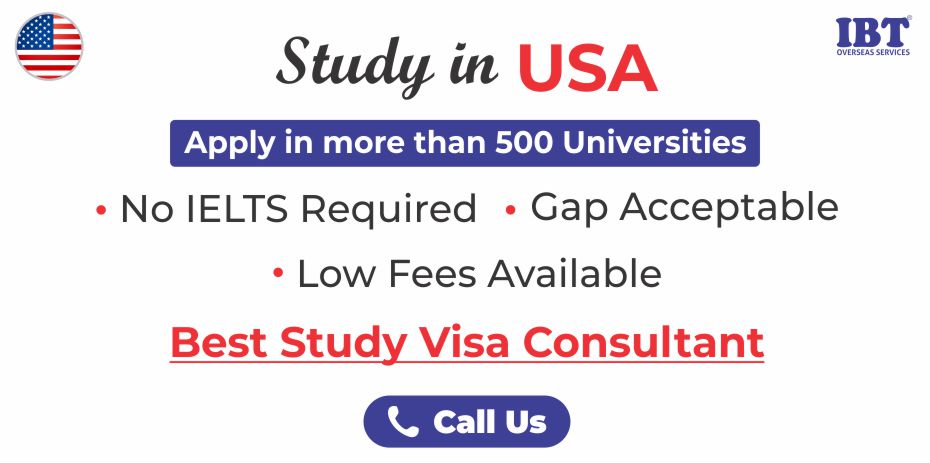 Here we have enumerated some persuading reasons that can push you to choose IBT overseas to apply for USA Study Visa:
Well-experienced staff: We have highly qualified and experienced staff. They are proficient in handling visa queries. The best quality of our staff is they roll up their sleeves to help their clients.

Direct tie-ups: IBT overseas represents 100+ universities/colleges of the USA. Students can choose to pursue higher education in any university of their choice.

Stamped visas: IBT overseas has stamped over 1000 visas in the past ten years. This clearly defines the efficiency of our staff members.

Integrity: IBT is well-known for its loyalty and transparent work. We provide every necessary details of visa processing code and conduct to our clients so that they are aware of every step related to the USA student visa.

Remarkable consultation: We have adept employees who provide relevant information and help students in selecting appropriate universities for themselves.

Privacy and safety: IBT overseas is amongst honest immigration consultants in Amritsar. They guide students by keeping their information confidential as well as safe.

Want to be the part of these success stories?
Universities in the USA offer nonpareil education and vast employment prospects. This makes the United States of America the most desirable country for attaining higher education. The USA is home to some of the world's eminent universities and research facilities. Imagine learning in a warm academic environment where teachers are approachable and classrooms represent the cultural diversity of the country. Also, imagine working in an organization with educational qualifications that are accepted globally. This is what it means to study in the USA! So, have you made up your mind to pursue higher education in the USA? If yes, then let us tell you that you need a study visa for that. To apply for a study visa, you need to approach trustworthy USA study visa consultants. Finding the best immigration consultant is like searching for a needle in a haystack. Keep your worries aside, IBT overseas is there to help you at each step. Link with us today to start your USA study visa process.
Do you know why lakhs of students have a burning desire to pursue higher studies in the USA? Illustrious universities with adept teaching faculty capture the attention of a throng of students. Go through the following points to know why you should choose USA for higher studies:

Open ended education system: American universities offer a myriad of courses and degrees to choose from. You'll get an open choice to select course content as well as structure. You can pursue different courses at the undergraduate level.

Academic excellence: American universities have distinguished academic excellence. As per QS world ranking report, the world's top universities reside in America. Universities of the USA are well-known for providing excellent education to their students.

Experience cultural diversity: The USA has a perfect blend of various races, cultures and ethnicities. You'll get an opportunity to study with students of different cultures. Therefore, you'll get the best educational experience in the USA.

Guidance to international students: American institutions understand the problems faced by international students. For guiding students, American institutes conduct various orientation programs. Their mentors are available to students around the clock.

Exuberant campus life: The USA has unparalleled campus life. You'll get a chance to deal with people of different religions and cultures. Have the most of it and open yourself up to different ideas as well as people.
The United States of America is the top choice of international students for pursuing higher education. Are you dreaming of attaining an education from globally recognized universities in America? Convert your dreams into reality by seeking help from the best consultant for USA study visa. For sure, IBT Overseas will come forward to help you in getting the USA study visa. Make sure you have the following documents to apply for the USA study visa: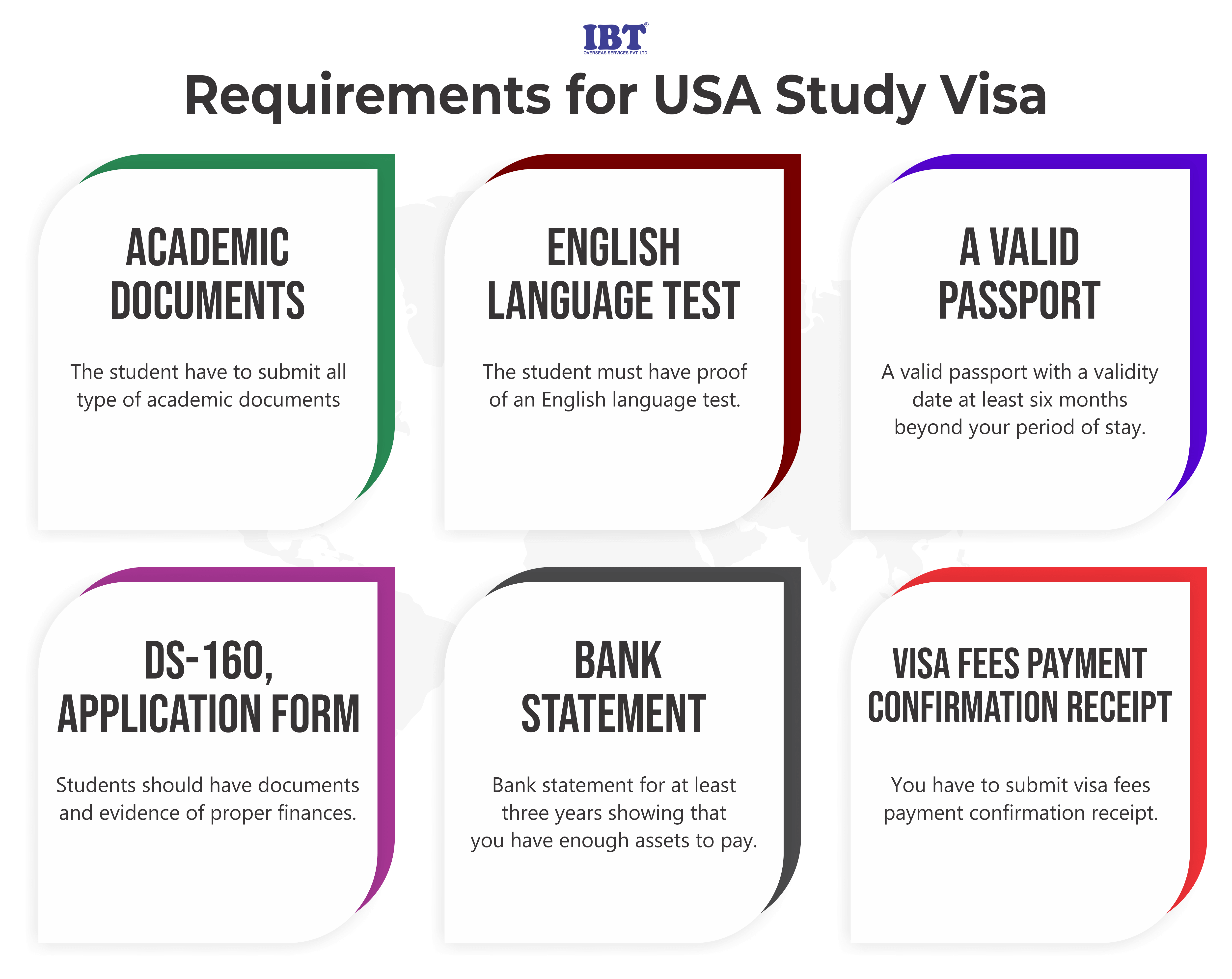 1) Academic documents
Detailed mark sheet of 12th class

Detailed mark sheet of graduation

Passport size photographs

Any relevant correspondence with the institution

Academic documents of recent qualification
2) Requirements for the English language
To pursue higher education in the USA, you must have proof of an English language test. Make sure you have a Score sheet for exams like IELTS, PTE, GRE & TOEFL etc.
3) Other necessary documents
A valid passport with a validity date at least six months beyond your period of stay.

SEVIS Fee Receipt

A printed copy of DS-160, the online application form

Students should have documents and evidence of proper finances

Form I-20 sent by the college (where you are going to study)

Interview appointment letter (original and copy)

Visa fees payment confirmation receipt

Bank statement for at least three years showing that you have enough assets to pay for the first year (could be of parent or guardian)

Original mark sheets/provisional certificates

Pay/salary slips
To apply for a USA study visa, you need to pay SEVIS fee as well as the Embassy fee. Students need to pay a SEVIS fee of $350 to apply for a US student visa. In order to schedule a biometric and Embassy interview, students need to pay $160 as an Embassy fee.
Students who wish to attain higher education from the recognized universities of the USA need to get a study visa. The majority of students opt for F-1 Study Visa. Students can apply for a study visa 120 days before the commencement of their study program. Here are some basic steps that will help you get a study visa for America:
1. Apply for the Offer letter: The first and foremost step in the USA Study Visa process is to Apply for the offer letter in the desired University/College in the desired course.
2. Receive form I-20 from your college: Your visa process will start when you'll receive form I-20 from your college. You can choose to pay the SEVIS fee anytime during your application period, but try to pay the SEVIS I-901 fee before you start your US visa process.
3. Apply for a DS-160 Visa form: After paying the SEVIS fee and getting a receipt, you can apply for a DS-160 visa form. It is an online application form.
4. Print the form and pay the visa fee: Print the application form confirmation page to bring to your interview. Pay the visa fee through NEFT or at authorized AXIS bank/Citibank locations.
5. Schedule a biometric appointment: For the biometric appointment, you need to appear in person to get your photographs clicked for the visa and get your fingerprints scanned.
6. Schedule interview appointment: At the Personal interview, the interviewer will ask you questions regarding your choice of course, college, finances, and intent of coming back. If the interviewer is convinced, they will keep your passport with them to get the visa stamped.
Make your Study Visa easier with IBT Overseas
The USA offers a diverse range of courses for students. Here's a rundown on the education system of the United States of America:
Levels of study in the USA
Elementary school

Junior high school

High school

Higher education
Have an overview of qualifications offered by the USA
Qualification

Duration

Illustration

Associate Degree

2 Y

It includes job orientation courses that can help a graduate in starting his/her career. Also, it is equivalent to the first two years for a bachelor's degree.

Bachelor's Degree

3-4 Y

It is an undergraduate degree that includes core courses. The four years of graduation are known as:

Freshman

Sophomore

Junior

Senior

Master's Degree

(Professional)

1-3 Y

It promotes students from first degree to a particular profession. The duration of degree depends upon the field of study.

Master's Degree

(Academic)

2 Y

Generally awarded in traditional courses of humanities, arts, and science; may promote students to doctoral programs

Doctorate or PhD

5-8 Y

Students complete PhD under the supervision of a faculty advisor. Also, students represent a thesis and answer a few questions of the faculty members.
Types of institutions that provide quality education to students are described as follows:
Colleges
Generally, colleges provide undergraduate degrees to students. Community colleges in America provide a two year associate degree after which you can easily pursue studies in the university for the next two years.
Universities
Universities in the USA offer research based masters, doctoral as well as post doctoral degrees. The universities of USA are categorised as below:
Public universities: These universities are run by the state government of the USA.

Private universities: These universities are a mix of profit and not for profit that run on tuition fee as well as donations. It is observed that only 20% of students attend private universities.
Missouri University of Science and Technology, Missouri

Mississippi State University

Texas A&M University Corpus Christi – the Island University

Oregon State University

Massachusetts Institute of Technology

The University of Texas at Dallas

California State University Los Angeles Campus

Adelphi University, New York

.University of Cincinnati

Montana State University – Bozeman, Montana

Florida International University

Harvard University

Stanford University

Cleveland State University

Academy of Art University

Albertus Magnus College

Alice Lloyd College

Bank Street College of Education
Q 1. Why should I choose the USA for pursuing higher education?
Ans. The USA is amongst those powerful countries that has the best education system and employment opportunities. Apart from world class education, you'll experience cultural diversity as well.
Q 2. How can IBT Overseas help me fulfil my dreams of studying in the USA?
Ans. IBT has direct tie-ups with the reputed universities of the USA. Also, our highly educated staff can help you choose the best university/college for pursuing higher education.
Q 3. Can students change their university/college after reaching the USA?
Ans. As per USA citizenship and immigration rules, you can't change your school/university before completing a year there. So, it is better to make your choice carefully.
Q 4. What is the meaning of SEVIS?
Ans. The USA government implemented SEVIS (Student and Exchange Visitor Information System). Universities that issue I-20s are supposed to enter data of international students using the SEVIS database. Also, this information can be used by US consulates worldwide.
Q 5. When is the appropriate time to apply for a USA study visa?
Ans. You can apply for a study visa at least 120 days prior to the date of enrollment mentioned in the I-20 form.
Q 6. If I don't have sufficient funds, can I take help from a bank loan?
Ans. Yes you can borrow loans, but you need to convince the USA consular that you can easily repay the loan. It is advisable to have a smaller loan. Borrowing huge loans can create problems in getting a student visa.
Q 7. What is CPT?
Ans. An optional employment opportunity given to F-1 students where training is regarded as an important part of an academic program is known as Curricular Practical Training (CPT). As per immigration rules, this employment may be a cooperative education job, internship or any other work experience that is mandatory to complete your degree.
Q 8. What is the surety that IBT overseas can help me get a USA student visa?
Ans. IBT has stamped over 1000 student visas till date. This clearly shows that IBT is the best study visa consultant in Amritsar. Link with us today, if you want to start your USA student visa process.
Q 9. Can international students work while studying in the USA?
Ans. For F-1 students in the USA, there are not enough work opportunities. Due to this reason, students need to show proof of financial stability before applying for the USA student visa.
Q 10. Do I need to clear TOEFL, IELTS or GMAT to apply for a USA student Visa?
Ans. Yes, it is mandatory to clear the TOEFL, IELTS or GMAT exam before applying for a US student visa. As the USA is an English speaking country, it is important to clear an English language proficiency test.
Q 11. Is it important for international students to get health insurance while studying in the USA?
Ans. It is mandatory for every international student to get health insurance while studying in any university/college of the USA.
Q 12. What is the age limit for applying for a USA Study visa?
Ans. Let us tell you that there's no age bar for applying for a USA study visa. However, it is essential for a candidate to be above 18 years of age.