Nowadays, most of the budding youth aim to attain education from the best universities and colleges on an international level. However, lack of guidance becomes the main reason behind their unsuccessful dream so to eradicate such situations IBT Overseas came into existence. We are that one sufficient platform that is efficient in solving all the queries that are becoming the huddle behind the completion of your dream. Being one of the dominant platforms, we are truly devoted to building a relationship of mutual trust and bonding with all our Australia study aiming students.

IBT overseas is the best Australia study visa consultants in Chandigarh.It provides passionate, timely, and strong study visa solutions to all our students. Moreover, we have an experienced, energetic, and skilled group of professionals buckled up with straight forwardness and honesty to fulfill the dream of our students.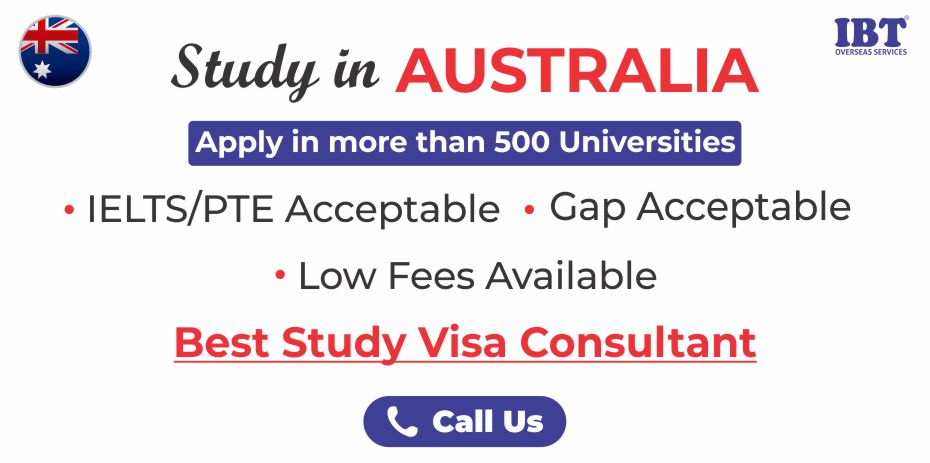 Here, we have number of reasons that can help you trust IBT overseas to avail immigration services:
Market presence: IBT Overseas has spread its wings over 100+ cities in different states of India. Thus, IBT overseas is one of the most famous immigration consultants having experienced and efficient employees.

Government Approved: IBT overseas is best Australia study visa consultants in Chandigarh. It is approved by the state government for running visa services, that is how you can trust IBT overseas with immigration services.

Direct tie-ups: IBT overseas represents more than 100 Australian colleges, students can fulfill their dream of pursuing higher education in any college of their choice.

Stamped visas: IBT overseas has successfully achieved the milestone of stamping over 1000 visas in the past 10 years. This clearly shows the efficiency and skill of IBT staff.

Honest and Reliable Service: We aim at providing accurate guidance to our clients. Our staff members are efficient in solving every query and doubt of clients. IBT overseas makes sure that their clients need not to struggle with the visa options and our employees are well versed with visa and immigration laws.

Want to be the part of these success stories?
The unparalleled quality of education and vast employment prospects in Australia attracts millions of international students. Australian Universities are renowned for their training and research methodologies, this makes many Indian Students pursue higher education in Australia. There are lakhs of Indian Students who aim to attain education from world-class universities of Australia. However, this dream of students remains unfulfilled because of improper guidance and counseling, so to overcome such situations IBT came into existence. IBT is one of the best visa consultants that provides assistance to study abroad aspirants. The first and foremost reason to choose us is that we roll up our sleeves and provide appropriate visa options to our clients. We have experienced and energetic employees who will provide you guidance at every step. We aim at fulfilling the dreams of every client by dealing with them amicably through open communication.
There are numerous reasons which make students choose university/college in Australia for higher studies:

High standard of living: There are five major cities - Melbourne, Brisbane, Sydney, Adelaide, and Perth that are known to be the most liveable places on the globe. Australia is having an unmatchable standard of living with its excellent infrastructure, high-quality medical, healthcare facilities, reasonably affordable housing, and technologically advanced transportation.

Various scholarships: International students are awarded over 3,200 scholarships, bursaries, and grants by Australian universities every year. This factor encourages students all over the world to pursue their higher studies in Australia.

Extensive research opportunities: Students get excellent research opportunities and facilities by Australian Universities. There are various Australian discoveries that changed the world such as black box flight recorder, ultrasound, penicillin, and revelation of the accelerating universe. This thing proves that international students will be availed with various opportunities to perform research.

Globally accepted qualifications: Australian universities have earned a spectacular reputation in the world for updating their study programs to meet the industrial requirements. The degrees and diplomas from Australian universities are highly valued as they symbolize the proof of quality knowledge and skills.

One of the best study destinations: There are over 7,00,000 international students who prefer to study in Australia. The Australian universities are listed in top position by world university ranking agencies such as QS and THE.

Students can work while studying: Australian government allows international students to work for a maximum of 40 days every two weeks. Foreign and local students are not discriminated on any basis by the Australian government.
Australia is known for its high quality and practical education system. Australian universities come in the top choices of international students to pursue higher education. Every Australian institute has a unique admission procedure but eligibility criteria and admission requirements are almost the same for every educational institute. Students should possess the following documents to apply for a study visa at any Australian Institute :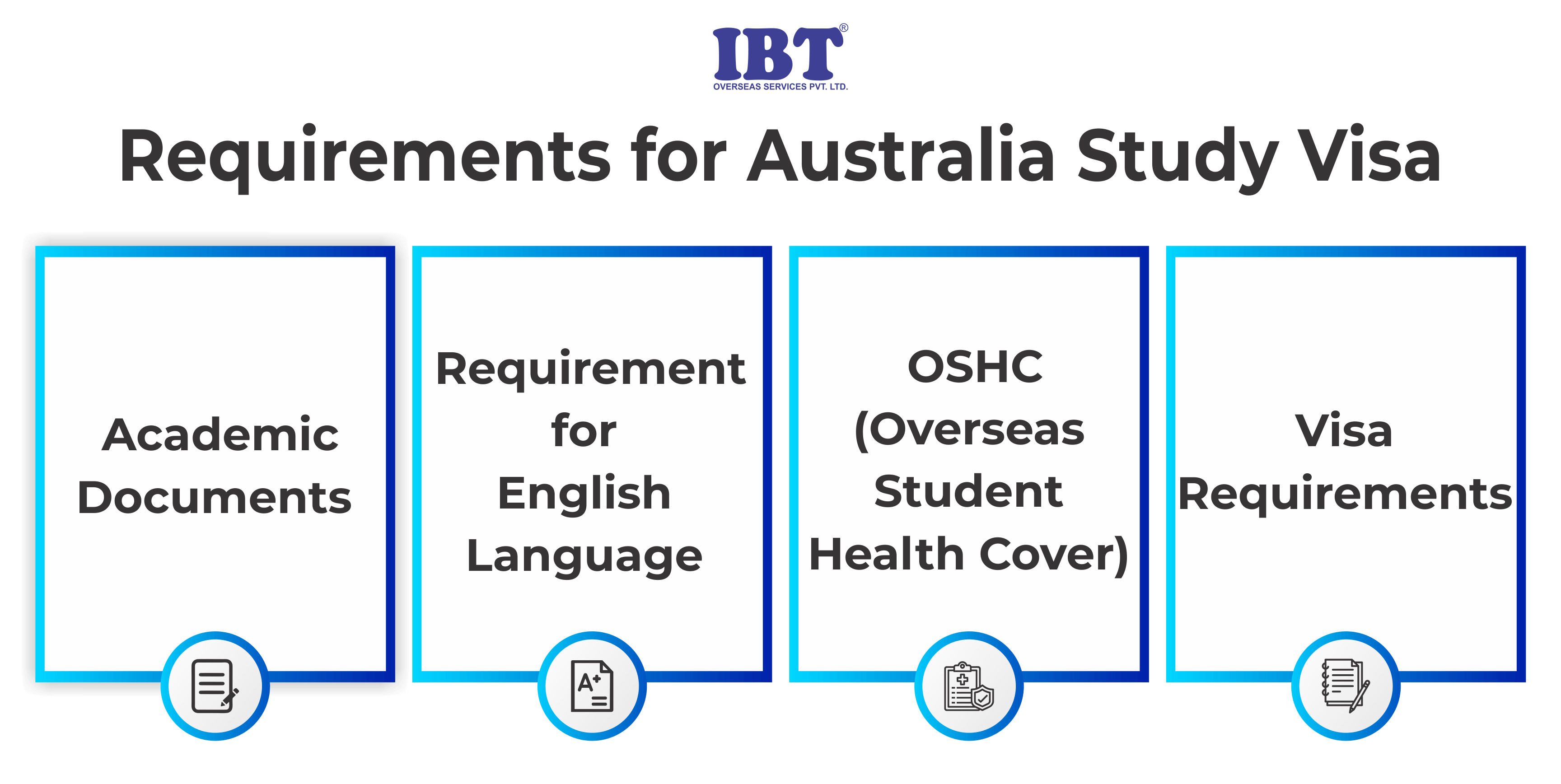 1. Academic documents
To study in Australia the academic documents required to study may vary according to the education level. The documents that are necessary to study in Australia are mentioned below:
Detailed mark sheet of 12th class

Detailed mark sheet of graduation (if applicable)

Receipt of college fee (recommended)

Academic documents of recent qualification

Scholarship letter (if any)

Passport size photographs

Language proficiency Certificate (PTE/IELTS/TOEFL)

Any relevant correspondence with the institution
Students can opt to take a foundation course to meet the academic requirements.
2. Requirement for English language
Students must have proof of English Language test as it is mandatory to pursue higher education in Australian Universities. Students are advised to check the Institute website regularly for requirements related to English language.
3. OSHC(Overseas Student Health Cover)
Students can maintain OSHC for the duration they stay in Australia. It is a health cover provided to international students in Australia, by which they are eligible to meet hospital expenses during the study in Australia.
4. Visa requirements
To apply for Australian Study Visa, the key requirements are:
A valid passport

Work experience and Academic documents

Acceptable Overseas Student Health Cover (OSHC)

Sufficient fund proof

Proof of an electronic confirmation of enrolment (eCoE)
Australia has shown a rapid increase in granting study visas to Indian Students. It is important for every Indian Student to meet Australian Student visa application requirements to avoid processing delays. Every student needs to submit documents depending on their situation, they need to fill the form carefully to avoid any possible rejection. Instead, we advise interested students to consult with Australia study visa consultants in Chandigarh before completing their files.
You must follow this process to apply for Australia Study Visa:
Step 1: Get your offer letter from Australian University/college.
Step 2: Complete the documents like recommendation letters, Statement of purpose (SOP), resume as per the requirements to save time in the visa process.
Step 3: Fill the Australian Visa application form carefully.
Step 4: After filling the application form, upload the scanned copies of the document.
Step 5: Pay the fee for application.
Step 6: Apply for Australia Study Visa.
Step 7: Wait for the confirmation mail.
Make your Study Visa easier with IBT Overseas.
The education System is three-tiered in Australia with primary, secondary, and tertiary levels of education. The levels and qualifications as per the Australian Qualification Framework(AQF) is given below :
Level

Certificate

Level 1

Certificate I

Level 2

Certificate II

Level 3

Certificate III

Level 4

Certificate IV

Level 5

Diploma

Level 6

Advanced diploma, associate degree

Level 7

Bachelor degree

Level 8

Bachelor Honours Degree, Graduate Diploma

, Graduate Certificate

Level 9

Master's Degree

Level 10

Doctoral degree
School Education:
Both government and non-government Institutes provide primary and secondary education in Australia. Schooling is mandatory for children between 6 to 15 years of age except for Tasmania where it extends to age 16. Students usually start their secondary schooling when aged twelve or thirteen. The role of the federal government is to provide financial support to non-government and government school authorities.
Higher Education:
The higher level of education in Australia is composed of bachelor's degree, master's degree, and Doctorate. The knowledge and skill acquired by students at this level enable them to work in various industries of Australia. There are several public and private universities/colleges that offer scholarships to brilliant Indian Students.
Vocational and Technical Schools (VET):
Australia allows its students to enroll for vocational courses that allow them to skip university/college classes and apply for jobs directly. The main focus of these courses is on practical learning and industry skills, unlike regular courses that are based on heavy theory. VET students can refer to some of the popular industries such as hospitability, tourism, sports, manufacturing, marketing, and business.
Training in the English language:
All the instructions in the classroom are given in the English language by trainers. It is essential for Indian students to be proficient in the English language. If any student has limited proficiency then they can get themselves enrolled in the centers providing English language classes.
Curtin Sydney

ANIBT

Australian National University

Billy Blue School of Graphic & Design

Charles Darwin University

Box Hill Institute of TAFE

Central Queensland University

Blue Mountains Hotel School

Education Access Australia

Education Centre of Australia (ECA) & English Language School in Sydney

ECA, Global Sydney

Australian School of Business Administration Technology and Research

CIC in Association with Curtin University

Flinders College

Australian Institute of Commerce & Technology

Australian Catholic University (ACU)

Academies Australasia Polytechnic Pty Limited

Carnegie Mellon University

Bond University

ATMC-Australian Technical And Management College

Deakin College

Charles Sturt University

Edith Cowan University

Curtin University
Ques.1 Why Should I pick Australia as my study destination?
Ans: It is crystal clear that Australia is the third most popular international student destination in the entire world. There are overall 1,100 institutions present in this extraordinary country. Australia is not only the best country to experience cultural diversity but it has an astonishing lifestyle.
Ques.2 Will colleges and universities in Australia accept the Indian 10+2+3 education system?
Ans: Yes, without much stress Australian government accepts this education system for master's programs.
Ques.3 What types of funds I have to show for getting an Australia Study Visa?
Ans: The funds requirements may change from time to time. So, the candidate is required to be updated with the new funds scheme. Here is the list of funds that you need to show for getting an Australian Study Visa:
3 Months old saving account balance

3 Months old fixed deposit

MIS/ PPF/PF Balance

Education loan
Ques.4 What type of documents I have to submit for getting an Australian Study Visa?
Ans: The documents required for getting Australia Study Visa are:
Application form

Education Documents

Degree Certificate

IELTS Score list

Resume

Statement of Purpose

Work experience letter

Recommendation Letter
Ques.5 What will be the procedure to apply for an Australia Study Visa?
Ans: There are a total of 8 steps which a candidate should follow when he/she decides to visit Australia for study purposes.
Step 1: Application for Admission
Step 2: Send documents to the institute
Step 3: Arrange Finance
Step 4: Get an offer letter
Step 5: Pay Tuition fees for ELICOS/ First stream
Step 6: Receive COE
Step 7: Submit visa file
Step 8: Final visa grant notice
Ques.6 Will there be any age limit for applying for an Australia student visa?
Ans: There is no age limit for Australia student visas. You can apply for this visa at any age as long as you are above 18. If you are eighteen years old then you are required to have a chaperone for going to Australia for studies.
Ques.7 Will I get a chance to study more than one course in Australia?
Ans: Without a doubt, you can study more than one course in Australia. This term is known as a package and it's quite common in foreign nations. If you are not native and before commencing with your main you aim to join English course to learn fluency then you can package both the courses on the same visa.
Ques.8 Can I apply for my student visa before my course?
Ans: No, study Australia aiming students are required to enroll in the course before applying for a study visa to Australia.
Ques.9 Is it possible to change the institution after coming to Australia?
Ans: If a student wishes to change the institution, then he/she needs to have a letter of release. After this students are required to complete at least six months of their primary course before requesting for another institution.